The German Council of Economic Experts presents its Annual Economic Report 2014/15 today. The report is entitled:
More confidence in market processes
The German government has used the budgetary leeway allowed by the positive economic performance in recent years in order to introduce the full pension for some 63 year-olds and the increased "mother pension" (Mütterrente) for those with children born before 1992. However, reality has caught up with politics faster than expected. Thus, economic policy should be redirected to address the main long-term challenges, in particular those due to demographic change. It should place greater confidence in market processes instead of increasingly seeking to fix market outcomes in order to achieve distributional objectives.
After a surprisingly strong start in early 2014, the German economy experienced a significant setback. Geopolitical risks and unfavourable developments in the euro area are likely to have played a major role here. But the economic policy conducted by the German government may also have had a negative impact on the confidence of market participants. The German Council of Economic Experts projects GDP to increase by 1.2% in 2014 and 1.0% in 2015.
These less favourable prospects have triggered a debate on an alleged "investment gap" in the German economy. Indeed, there are some indications that public investment is weak. This additional investment spending could be realized by setting the priorities for public spending right. No additional revenue, neither from implicit nor explicit debt, is necessary to achieve that.
For private investment, there is no evidence of a pathological weakness. Nevertheless, the environment for private investment and innovation can be improved. The labour market should not be subjected to stricter regulation. Instead, the government should critically examine existing regulations. Social security systems must be financed in a way that helps them to withstand demographic change. The government should embed its "energy transition" (Energiewende) into an international strategy for climate protection and organise it more efficiently. It should improve the efficiency of the innovation system and facilitate an ever deeper integration of the economy into the international division of labour.
The government should not fully exhaust the leeway offered by the almost balanced public budget within the regulations of the debt brake, because the credibility of the fiscal rules has not yet been safely established. The favourable budget situation is attributable to bracket creep and special temporary factors: low interest rates, increased employment, and a demographic respite. At the same time, structural expenditure has risen considerably. The fiscal equalisation system should be designed as a proactive, incentive-creating financial regime, and the impact of bracket creep should be reduced so as to create a more investment- and innovation-friendly environment.
Two-speed global growth will continue in 2015. Growth engines will be the United States and the United Kingdom. More modest performance seems likely in the euro area. With expected GDP growth of 1.0% and an inflation rate of 0.7%, a slide into deflation is unlikely.
The ECB has cut its key interest rate to almost zero and introduced extensive quantitative easing measures. This policy holds risks for long-term economic growth in the euro area, not least by dampening the member states' willingness to implement reforms and consolidate their public finances. Thus, the ECB should avoid massively expanding its balance sheet as long as it does not forecast deflation in the euro area.
The banking union represents an important step towards a stable financial system in Europe. However, the German government should strive for a change in the European treaties. This would make it possible to create a European banking supervisory authority that would be institutionally separate from monetary policy and would allow for more effective bank resolution.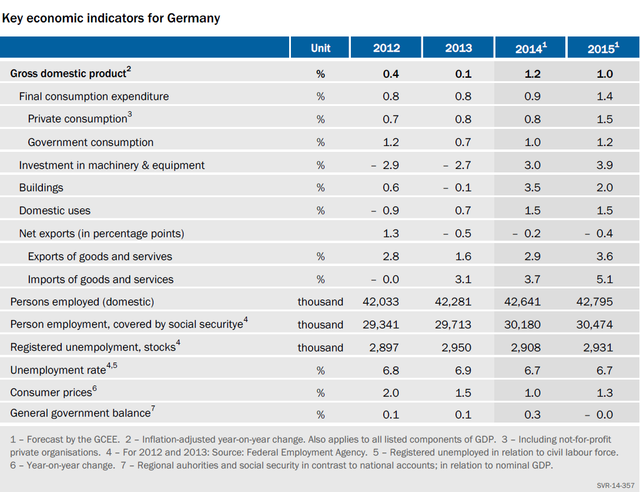 German Council of Economic Experts
Federal Statistical Office of Germany
65180 Wiesbaden
Telephon: 0049-611-75-3640, Fax: 0049-611-75-2538
E-Mail: srw@destatis.de
Internet: www.sachverstaendigenrat-wirtschaft.de
» Annual Economic Report 2014/15